mullite-based regenerator
Our new lining concepts for regenerator walls with Premium & Premium Plus for both silica and mullite linings are available immediately.
The selection of our products, technologies and solutions, as well as between Premium & Premium Plus takes place after consultation with our customers in order to achieve the best possible and cost-effective solution based on the operating parameters, the furnace and the type of glass produced.
Some of these constraints include:

• Fuel, e.g. gas or oil
• Operating temperatures and exhaust gas composition
• Exposure to batch dust, cullet and flux
• Planned service life and insulation of the regenerator
Contact our sales department to get to know our products and solutions in detail and to find the best concept for your needs.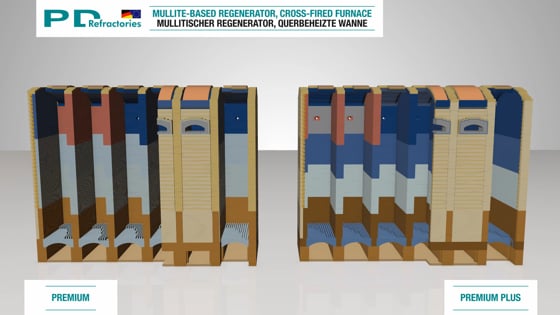 Please accept the cookies for external media in order to play this video.
Change cookie settings